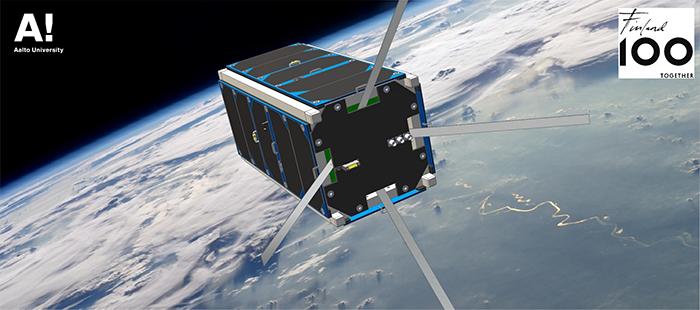 This Aalto University proposed nanosatellite has been chosen as part of the programme of centenary of Finland's independence in 2017.
The satellite, currently called by it's project name Suomi 100 (Finland 100), will be loaded with cameras which will beam the views and feel of being in space down to Earth. A radio receiver will "listen" to the space weather and add the auroras to the 3D experience that will be created in the several locations around Finland.
– The satellite will offer everyone a unique space experience, promises leader of the project, Professor Esa Kallio from Aalto University.
The satellite will be managed and built by students. The concept is based on the experiences gathered with the earlier satellite design and building projects at the Aalto University.
Excerpt and image from the initial news release.
A brief introduction of the Suomi 100 radio frequency spectrometer instrument and its science objectives: poster_raytracing_suomi100.pdf
Examples of Suomi 100 satellite student works:
Press releases: